Monthly archives for
September, 2011
Interview: Post Adolescence
Post Adolescence carve their initials into the lonely forest of Seattle Pop
Robin Fairbanks- Bird On A Wire – Seattle
Posted on Friday, September 16, 2011 6:44 AM
Post Adolescence carve their initials into the lonely forest of Seattle Pop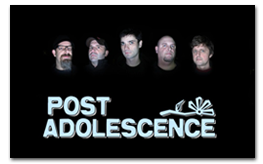 Interview: Post Adolescence

In a town best known for it's Indie, Post Adolescence are carving their initials into the lonely forest of Seattle Pop.
Upon first listen, one would believe they're from across the pond with soaring guitars and catchy riffs reminiscent of Queen. Post Adolescence has studied their Pop/Punk icons well and have created a Pop romp, tension-filled vulnerability all their own.
There's definitely a Bowie-eque, Spider From Mars quality but darker. Lead singer, Johnny Straube's soaring falsettos are neo-nostalgic, breathy, fragile with a "hell yeah" punk bent. His delivery is anguished, tormented yet wickedly delicious!
Post Adolescence is the musical Johnny Depp version of Willy Wonka. Happily dangerous, slightly weird and wonderful!

I had an opportunity to sit down with the members of Post Adolescence recently before a show at The High Dive and discussed their beginnings, what it's like to be one of a handful of Pop bands in Seattle, and what's on the horizon with the release of their debut album, 'My Nothing'.


I wrangle the five out onto a patio before their show at the High Dive. They're refreshingly eager to chat which is rare. Sometimes it's like pulling teeth to get bands to talk for some artists are surprisingly shy in social situations. Not the case today.

The group is comprised of: Johnny Straube-guitar/lead vocals, Brian McCrossen-drums, Gar Hooker-bass/vocals, Mark Clem-guitars/keys/vocals, and Adrian Garver-guitar/keys.
Many of the bands I've come to know have ritualistic behaviors before shows. What are yours?
PA: (Johnny) Before the show, Gar and I like to hop into the jeep and pop in one of our Cd's and warm up. That and … drinking!
I know a lot of bands have a staple pre-show ritualistic food. What's yours?
PA: (Johnny) Double order of Nachos! The other guys rarely eat before a show. If you've seen Straube, you'd understand why he can afford to eat double nachos. He's strikingly tall and thin and most likely has the metabolism of a bird!
Who founded this band?
PA: Technically, Johnny, Brian, and Gar were in "Northern Souls" and split off and just did the 3pc thing for awhile and then hooked up with Mark Clem who was producing and recording the debut album, 'My Nothing' and we asked him to join us. We knew Adrian from a band he was in called, Moderick'. So we asked them and they said "yes". As a matter of fact, they said, "Hell Yeah!"
So who would you say is the taskmaster of the group?
PA: (In a resounding chorus) Gar definitely! We've all tried to be more organized and all of us have now taken on a specific role in the band but definitely Gar!
In listening to your music, you do have a British Pop/Punk sound. Any chance you'll be heading across the pond anytime soon?
PA: Absolutely, maybe as soon as next year. We get way more airplay in the UK than here. We've had great luck there and our publicist has gotten us spins on some interesting stations, and streams on music sites there. Nothing like hearing something nice said about you in a British accent! They just seem to really get the band over there, which is really reassuring. The UK treat bands really well and we definitely have plans to go over there.
I've read comments from fans about your music and some of the things they said were… "Refreshing"…. "infectious"…. "Strikes a balance between hope and torment". Explain that.
PA: (The band laughs) The whole thing with this band is that the lyrics are rather dark, stuff that everyone has dealt with in their lives, but the music is really upbeat Pop says Straube. Another member chimes in, We're definitely not Leonard Cohen! Straube says it's whatever mood you're in. If you're depressed it's like, "Wow, yeah my life sucks", or it might just be,"Yeah, this really rocks!".
So tell me, how did you arrive at the album title, 'My Nothing?
PA: Basically we ripped it from a Manic Street Preachers song called 'Faster'. "I know I believe In nothing but it's my nothing". It just struck a chord with me says Johnny. The whole thing behind this album is basically it's nothing special since I've lived the same experience as everyone else, but it's "my" experience.
Johnny, are you the primary lyricist?
PA: I write the lyrics and the foundations of the song but we all work as a unit. After all, what's a foundation without walls? This comment brings snickers and groans from his bandmates as to the hokey-ness of the statement and we all have a good laugh!
Future Plans?
PA: KEXP put our album in their catalog so you can call and request us. DJ Cheryl Waters has spun, "Myspace Or Yours" a few times in her Mid-Day show upon request and our music is in rotation at online stations, Seattle Night Out Radio and NWCZ Radio. We plan on continuing to release singles every few months or so. We just recently released, "Don't Walk Away" available currently as a Free download, and we're working on our next single, "Everybody's Sober Nowadays".

Your next chance to catch Post Adolescence is at The High Dive Friday Oct 28th for "Metalween" before they head back into the studio until the first of the year.

There's a joke that says, "What would happen if a tree falls in the forest, and no one hears it?" Answer: A hipster would buy the soundtrack!
Post Adolescence is a rare tree in the Seattle forest. Let's not let them fall unheard!
- Robin Fairbanks – Bird On A Wire – Seattle

Grab your Free Download of:
"Don't Walk Away":

Follow the band:
http://www.postadolescence.com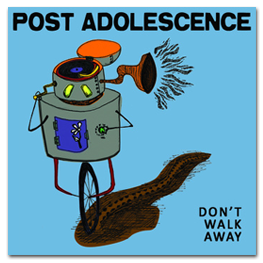 http://seattle.nightoutradio.org/news/music-news/item/interview-post-adolescence